Tijuana Sling: How to Make One When the Bartender Thinks You're Loco
Once upon a time, not in Mexico, but in a West London kitchen, I was introduced to the Tijuana Sling, and what a love affair it has been since. The delicious alternative to the Singapore Sling is so rare many bartenders will think you must have lost your mind somewhere over the South China Sea and Pacific if you ask for it.
Here's the recipe: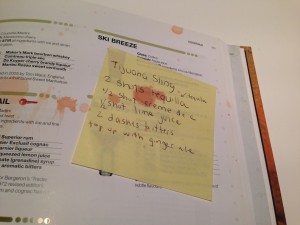 I wrote this recipe quickly (and admittedly a bit tipsy, notice the extra 'l' in tequila) on a Post-it in that West London kitchen. It's since survived a few attempted drownings in crème de cassis. If it's a little too messy for you, here's a clearer version:
2 shots of tequila
½ shot of crème de cassis
½ shot of lime juice
2 dashes of angostura bitters
Shake up with ice. Pour into a large glass with ice. Top up with ginger ale.
Admittedly, the name is a bit misleading. It's nothing like a Singapore Sling. Really, based on taste, I'd say the Tijuana Sling is more of a distant cousin to Sangria. Yet it lacks all the fruitiness of its Spanish relative, and when you drink it, you can tell it's had a smooch with a margarita.
I also think it's pretty purdy looking. Don't you think?