Bistrotheque: Brunch and Cocktails for #Instagramers
I admit it: the hipsters know where to brunch in London.
Bistrotheque at 23–27 Wadeson Street in E2 is a part of town I thought I'd only end up in if I fell asleep on a night bus.
Only my other half and I — after following a trendy-spectacled friend's advice — very purposefully made our way there last weekend to celebrate our anniversary. It also happened to be the end of a three-week detox for me.
Picture me stone-cold sober, brushing my arms along the sides of an old warehouse in East London, waiting for a secret door to open up. It's not quite that difficult to find the entrance to Bistrotheque, but that gives you some idea.
Oh hipsters.
Anyway, what did I have in my hand as I toasted four happy years and my under-worked liver?
A passion fruit caipirinha.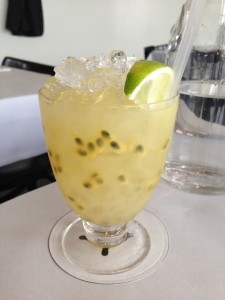 Good morning, sunshine!
I usually don't like caipirinhas. I find them too sweet and not as punchy as their lime cousin the margarita. However, this version was nice and tart. It tasted sort of grapefruity.
The setting (once we were safely seated inside) couldn't have been better too: bright and white without being sterile. A piano player massaged the keys gently to elevator tunes of familiar songs like Rihanna's Only Girl (In the World). The prices were mid-range and very reasonable considering the quality of delights. The food and drinks were delicious — both in taste and presentation.
Alright, hipster pals, fire up your Instagram.