Kir Royale: Does It Really Need Champagne?
Every cocktail recipe that I have ever read for a Kir Royale calls for using champagne – not just any old sparkling wine. I've always wondered if it really made a difference what kind of fizz you use.
So I thought I'd try a comparison. The contenders: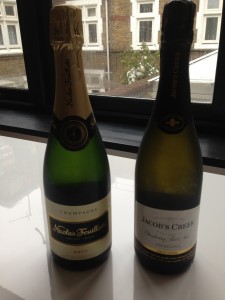 Jacob's Creek is my favourite sparkling wine and a good stand-in for champagne any day. Nicolas Feuillatte Brut is a well-priced champagne that I think competes bubble to bubble with Moet or any other of its kind.
In a blind taste test, I tried both au naturel. Here's my verdict:
I felt the champagne was less sweet and more velvety than the Jacob's Creek. The sparkling wine was a tad bitter. As much as I love Jacob's Creek, my taste buds voted for the champagne.
Now to the Kir Royale. This may be the simplest cocktail you could ever make.
Step 1: Grab a flute.
Step 2: Measure ½ shot of crème de cassis and pour it into the flute
Step 3: Top up with bubbly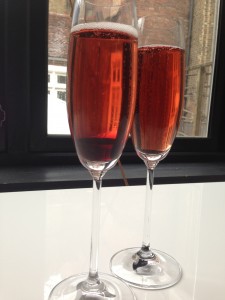 I tried the Jacob's Creek Kir Royale and Nicolas Feuillatte Kir Royale in another blind taste test, and I have to admit I was surprised by the findings.
I thought the crème de cassis would mask the differences between the two wines. It didn't!
The Nicolas Feuillatte Kir Royale allowed the black currant flavour of the crème de cassis to shine, while the champagne still managed to bathe my taste buds in velvet.
The Jacob's Creek Kir Royale was bitterer and this tang continued on moments after the juices left my tongue. I came to the conclusion that Jacob's Creek – while a very stand-up wine on its own – is far too sharp to mix with crème de cassis.
Finally, here's one funny observation. When I lifted my blindfold, I saw a very distinct difference between the two versions of Kir Royale.
In the Nicolas Feuillatte glass, the crème de cassis sank to the bottom. In the Jacob's Creek glass, it was well mixed in. This would indicate the champagne is indeed lighter –weight-wise – when compared to the sparkling wine.
All in all, in my opinion, champagne does a better job than sparkling wine at making a Kir Royale.
With that said, does it really matter? Champagne alone is a perfect drink. Why mess with a good thing? Who needs a champagne cocktail?
I'll let you sip on that one.