Daiquiri: How to Make the Drink Your Mom Loved in the 80s
I did something very unusual tonight. I followed a recipe with no urge to experiment!
Tonight I made daiquiris. Well, two glasses of Daiquiri No. 2 , as my Diffords Guide calls the recipe.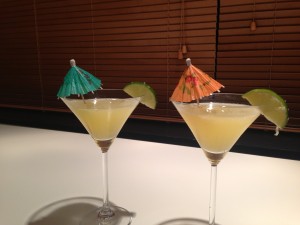 Here's what you need to make one:
2 shots of Bacardi Superior rum
1/8 shot of Cointreau triple sec
1/2 shot of freshly squeezed orange juice
1/2 shot of freshly squeezed lime juice
1/4 shot of Monin Pure Cane sugar syrup
Shake all ingredients with ice and fine strain into a chilled glass. Garnish with a lime wedge on the rim.
As I said, I followed this recipe word for word and somehow it ended up tasting nothing like the Diffords description.
Diffords comment: A Daiquiri with subtle orange notes, but far from being a mere Orange Daiquiri.
5 O'Clocktail comment: I didn't pick up the orange notes. I assume they were talking about the orange juice. I did, however, detect Cointreau. Even though there was only a small amount in there, that orange liqueur demands to be noticed.
Funny enough, I tasted more lemon than orange in my daiquiri. This is odd considering I did not put lemon juice into the drink. In the interest of full disclosure, I did squeeze the orange and lime juice into a container that had earlier held lemon juice. However, I had cleaned that container thoroughly before using it. Perhaps some subtle lemon flavour clung to the container?
The most delicious part of this daiquiri, however, is the rum. Somehow all these flavours mixed together make the rum emit an almost buttery ooze. You want to lick your lips.
So overall, I would rate this drink highly, even though it tastes nothing like the Diffords description. Well at least not the one I made. Why don't you give it a shot and see what you think?