Bundaberg: From a Great Big Island Way South of the Caribbean
Everyone has a preferred rum. For my nautical dad, it's Cruzan. My husband, an Aussie whose tastebuds never really left home, loves Bundaberg. He's particularly fond of Bundaberg OP. This is a strong blend that is supposed to bring out more character than the original.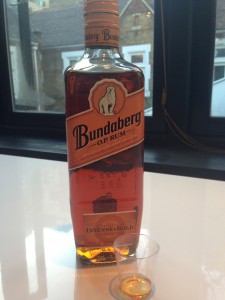 Perhaps it is patriotism that draws him to the drink. Bundaberg originates from the city of its christened name in Queensland, Australia. One thing my husband didn't know was his rum is based on molasses, a byproduct of sugar cane.
The sugar cane is grown in the "fertile local soil," as the Bundaberg website puts it, and its sent to be milled at the Bundaberg Sugar Mill next door to the distillery. The molasses is produced and fermented, double distilled, then sealed in oak vats.
The OP variety – known fully as overproof – is based on the same spirit as the original and blended to extra strength. As to why it's called "overproof," the Bundaberg website has a rather hilarious explanation:
"Well, back in the early days there were no sophisticated instruments to measure the alcohol content, so there was an ingenious test used to determine the strength of spirits. Ordinary gunpowder was saturated with the spirit. If, when lit, the powder flashed, it was 'overproof.' If it did not, it was 'underproof.'"
These days, the website says, Bundaberg uses a hydrometer instrument to measure the alcohol content.
Bundaberg explains the term "proof" now refers to an alcohol content of 50 percent by volume, or 100 Proof. Underproof means the rum is less that 50 percent alcohol by volume, and overproof means the rum is over 50 percent ABV.
I have to admit, I like Bundaberg OP too. You can sip it neat, like a whisky. It's a pretty spectacular experience. For me, it's like what you'd expect a good crème brûlée to taste like when you crack into it. Delicious.