Banana Banger: A Sunny Drink That Leaves a Bit of a Burn
Before yesterday I wasn't aware of any recipes designed for Bundaberg specifically, so I did a bit of googling.
I found this website:
http://www.bundabergrumshowcase.com.au/cocktails.html
And before I knew it, I was getting out the blender!
The cocktail I decided to try first was the Banana Banger.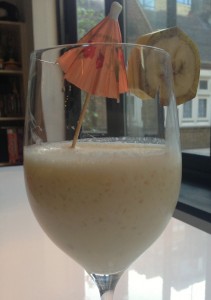 Here's my slight twist on the web recipe:
1 shot of Bundaberg OP rum
1/3 fresh banana chopped up
3/4 shot of cream
3/4 shot of fresh squeezed orange juice
Dash sugar syrup
Fist full of ice
Blend all the ingredients up. Pour into a glass with a slice of banana (skin on) on the rim.
I was very pleased with how this turned out. I was worried at first the "banger" could be too sweet or it might be one of those deceivingly alcoholic drinks with little bite. Thankfully the strength of the Bundaberg OP shone through it all.
One sip and you can feel the burn of this sunny drink. It hits you on the back of the throat. You can taste the cream but it's not overpowering, not like in a pina colada, for instance. I think the banana might help with this somehow. Maybe a weak fruit juice like pineapple surrenders to the cream, whereas the banana throws its weight around a bit.
I made one other observation. This drink actually has a spicy kick to it. It's even a bit spicier than Bundaberg OP neat. My theory is that the orange juice may actually enhance the Bundaberg flavours.
So drink responsibly and remember to lather up on the SPF if you take this one out in the sunshine with you. Happy Sunday!