Blue Bonanza: A Boring Blend That Bums You Out
I picked just one more recipe from the website I mentioned yesterday. Blue Bonanza. I chose it mostly because it uses Blue Curaçao — this is an ingredient I have been obsessed with ever since my friend and I tried a fabulous bluey cocktail on a trip to Paris five years ago.
Excuse my silly face and inappropriate 80s fringe. What on earth was I thinking?
No matter. You live and learn. Just as I did with this cocktail, Blue Bonanza. Boy was it a bore. I want to shed a tear for the completely wasted use of Bundaberg and Blue Curaçao in this drink.
Now, I must admit that I did not follow the recipe as written. Firstly, sourcing coconut cream was an issue. I could easily find coconut milk, but that is not the same thing. It has more water than coconut cream. So my solution was to use regular cream, but I added 3/4 shot of desiccated coconut to the mix.
So here's my slightly altered recipe:
3/4 shot of Bundaberg OP rum
1/3 fresh banana chopped up
1.5 shot of cream
3/4 shot of desiccated coconut
1/3 shot of Blue Curacao
Fist full of ice
Blend all the ingredients up. Pour into a glass with a slice of banana (skin on) and a cherry on the rim.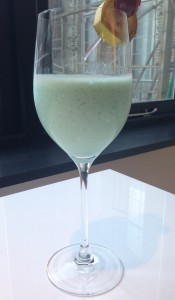 You can smell the rum in this drink but you certainly don't get that Banana Banger kick. There isn't any kind of spice. The cream is also overwhelming, in my view.
I am also displeased with my choice to use desiccated coconut. It doesn't blend very well. After chewing threw all those little coconut flakes, all I wanted to do was floss.
Maybe coconut cream could have made this drink better, but I doubt it. I think it needs something zingier. Perhaps this drink needs more Blue Curacao for a citrus punch. Plus, it might make the drink more visually appealing.
This somber cocktail certainly provides no cure for the blues.