Virgin Bloody Mary: A Work in Progress
As a Jersey girl, I have always had a thing for tomatoes. They are, after all, New Jersey's state vegetable, or fruit, depending on your side of the debate.
One of my favourite thirst quenchers is tomato juice, which explains my joy for Bloody Marys. I actually find they are just as good, if not better, when you order them virgin, as the vodka can leave you a little parched.
My favourite virgin brand on the market is Big Tom spicy tomato juice. The company's website says you can add a splash of vodka to a glass if you wish. I tend to find the herbs and spices in it are enough to clear my sinuses and chill me out after a hard day.
As good as this stuff is, I wondered if there was any way I could make it better myself.
I came up with loose guidelines for a recipe in my head:
It had to be tomato juice based. It needed a little citrus. It needed some spice. And it needed some savoury.
Here's what I came up with:
1 cup of plain tomato juice
½ lemon for squeezing juice
2 little anchovies (preferably those that have been kept in olive oil) chopped up
1 red chilli finely diced
I mixed all these ingredients up in a blender and then stopped to taste.
First thought: I initially thought that the anchovies, still covered in olive oil, were providing too savoury a taste.  Also, I like things spicy and I wanted just a tiny bit more kick. The chilli was only just tickling my tongue at the moment.
So I diced another chilli and chucked about ¾ of it into the mix. I also added another squeeze of lemon. I whirled all the ingredients around again.
I then poured the drink into an ice-filled martini glass, which I garnished with a celery stick.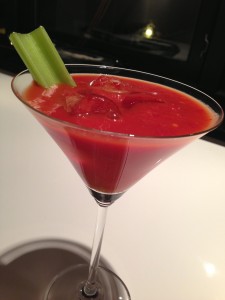 In this photo you do not see that I later grinded some pepper on top.
What did I think in the end? I regret putting in so much extra chilli. I probably should have only put in maybe a ¼ instead of ¾ of the extra chilli. All the extra spice overpowered the savoury hints I had tasted before.
I possibly could have added more lemon juice too. Maybe that would have added more depth.
I'd say the biggest problem was the tomato juice.  I admit it was store brand and from concentrate. What did I expect? It was thin and pretty pitiful.
Next time, I would like to make my own juice by perhaps pureeing some tomatoes. I also read a juice recipe online that calls for using grilled tomatoes. That sounds promising. I imagine it could add a bit of a smokey flavour.
Finally, here is one last bit of advice. If you do make this drink a little too spicy like I did, there is no harm in plopping a dollop of sour cream into it to cool your tongue. It might sound gross but it's actually quite nice.