Espresso Martini – My Baileys Alternative
Here's a drink I suggest with caution: the espresso martini.
It's one I drink rarely and sloooooooooowly. One sip and you're ready to zip.
Apparently traditional recipes call for using Kahlua coffee liqueur. I had thought recipes suggested Baileys. A friend of mine always ordered her espresso martinis with a little of the Irish cream. I never knew she was putting in a special request.
Anyway, here is the Diffords recipe:
2 shots of Ketel One vodka
1 1/2 shots of hot espresso coffee
1/2 shot of Monin Pure Cane sugar syrup
1/4 shot of Kahlua coffee liqueur
Shake all ingredients with ice and fine strain into a chilled glass. Garnish by floating three coffee beans.
I tried this recipe first, only I used Absolut vodka instead of Ketel One. The espresso was purchased from my favourite coffee shop, Monmouth, in Covent Garden.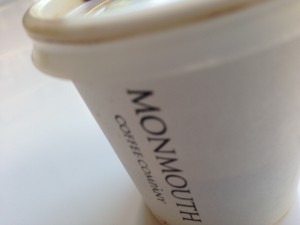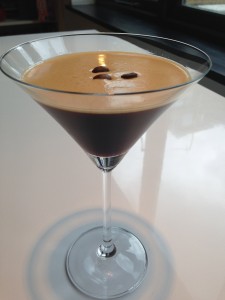 I then repeated all these steps again, but I used Baileys Original Irish Cream liqueur instead of Kahlua.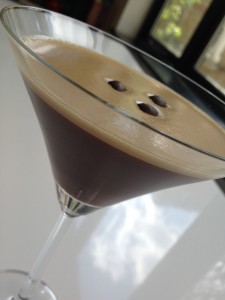 Here's what I thought:
If you want to taste each individual ingredient of the espresso martini, go with the traditional Kahlua version. If you prefer something that cuts through the strength of the coffee and the vodka, I would go with Baileys instead. That little bit of cream calms the drink (and you!) down a bit.
Also, use good coffee because the success of this cocktail will ultimately depend on that.