Cherry Sour: Bluebird Signature Cocktail
I once complained on this website there is nothing to mix with cherry liqueur. The seemingly useless red goo has been on my liquor shelf for heaven knows how long. It wasn't until last weekend's trip to Bluebird, I realised how completely non-useless it is in cocktails!
Let me introduce you to the Cherry Sour.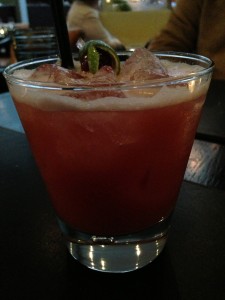 This was on Bluebird's evolving list of signature cocktails. Here's how it was described:
"cherry vodka, herring cherry liqueur, angostura bitters, sugar gomme syrup, fresh egg white, muddled fresh summer cherries and fresh lime"
Here's what I thought:
Cherries are mentioned quite a lot in the drink's description but the fruit is not overpowering. Most importantly, the drink tastes of actual cherries not the artificial bubblegum flavour. The bitters and the lime juice bring to mind a Tijuana Sling and provide a nice bite. The purpose of the egg white still remains a mystery. Sip this one slowly. Bluebird's Cherry Sour may look like kid stuff but it'll knock you back if you're not looking.