Tommy's Margarita: Just a Sour Peck, Not a Punch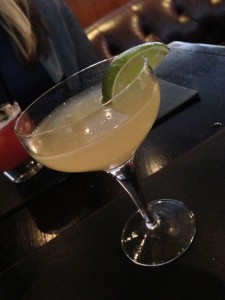 Here's a margarita that's more like a sour peck than punch. Tommy's Margarita at Bluebird is a deliciously smooth cocktail. You can taste the lime but it makes you say Oooooo rather than Yowza. The reason for this is likely Agave Nectar, which Bluebird says it puts in this version of a margarita. I may love sour slaps in the face but admittedly this is a really nice change.
Apparently agave nectar has some health benefits, or at least some nutrition experts say it's better than sugar.
Health food retailer Holland and Barrett says agave nectar has a 76 percent fructose level. Fructose is a slow-release carbohydrate, meaning the body absorbs it over a longer period of time and doesn't need high amounts of insulin to break it down.
The tequila snob at my local liquor store says he loves agave nectar so much, he squirts the stuff on his pancakes.
I think I'll buy a bottle for some of my home margaritas. And maybe, if I'm feeling a bit mischievous, I might try a little on my pancakes too.