Chelada: A Toast to Cinco de Mayo
¡Feliz Cinco de Mayo! The Fifth of May, while commonly mistaken as Mexico's Independence Day, actually commemorates the country's 1862 victory over France at the Battle of Puebla during the Franco-Mexican War.
Here is an easy way to toast our amigos in Mexico.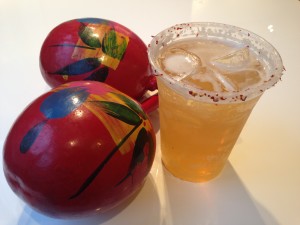 The Chelada is probably one of the easiest cocktails you can churn out.
What you need:
A lime
A bottle of Corona
Margarita salt
Chilli powder
Ice
Maracas (optional)
Slide lime juice around the rim of a glass. Then swirl the rim around a pile of margarita salt and chilli powder. Squeeze half of a juicy lime into the bottom of the glass and drop in a pinch of margarita salt. Add enough ice to fill half the glass and pour the Corona slowly into it. There you go!
What you taste: Spicy chilli on the lips, salt that hits you on the back of the throat. Lime juice, which usually makes things tangy, oddly softens the beer. Overall, it's ridiculously refreshing.
All you need now are some nachos. Salud!
Si esta es tu primera vez aquí, bienvenida a 5 O'Clocktail.com! Hola amigos!