Sangria: Easy, Refreshing, Quick
Sangria isn't really a single-serve cocktail. It's best when shared with a large group of friends. My other half and I once created a batch in a fish bowl for a "mega food" party.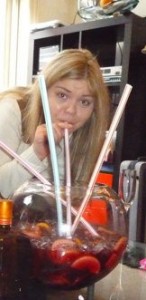 I made straws out of empty, over-sized Pixie Sticks. Good times.
Anyway, when one craves just a glass, here's my recipe for a quick and easy sangria.
CHOP up a few SLICES of ORANGE and LEMON and drop them into the bottom of a red wine glass.
Cover the fruit with 1/2 SHOT OF BRANDY.
ADD ICE CUBES
POUR in 3 SHOTS of SHIRAZ RED WINE
POUR in 3 SHOTS of GINGER ALE
STIR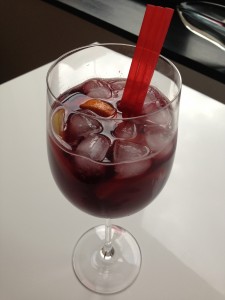 I like this recipe because it's strong — meaning you will sip rather than gulp. The brandy is not overpowering, but you can taste it on your breath. Overall, this mix is dry not sweet. You can add a teaspoon of sugar, if you're more in a fruit punch mood.
As I mentioned earlier, it's better to serve sangria to the masses instead of one. All you need to do is maintain the same ratios and scale up. You can also pre-plan by letting the mixture, sans ginger ale, infuse overnight in the fridge. It'll add a whole new dimension of citrus flavours.
Oh and if you do decide to serve your sangria in a fish bowl, remember to take out the fish before.