Cherry Gracias: A Blushing Cava
If you're after a cava drink to match the burn you got from sunbathing a little too long on the beach, here's an idea.
Just TOSS 1/2 shot of CHERRY LIQUEUR into the bottom of a flute. POUR in CAVA until the glass if about TWO-THIRDS FULL. TOP UP with GINGER ALE. Then ADD TWO SPLASHES of ANGOSTURA BITTERS.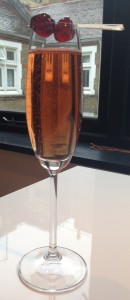 You can smell cherry in this but you hardly taste it. I think the liqueur fulfils its purpose by adding colour to the drink. The bitters bring complexity to this muy quaffable beverage.
It's nice while it lasts but admittedly it's kind of forgettable. Hopefully that nasty sunburn fades just as fast.