Sweet Tea: the Honey Content Is a Secret Between You and Me, Shug
Nearly twenty years ago, in a little Tennessee town, I drank the best "sweet tea" of my life. I remember asking the waitress what made it so good.
"We make it with honey, shug," she crooned.
Almost two decades on, in my flat in London, I may have re-created that Tennessee cafe special.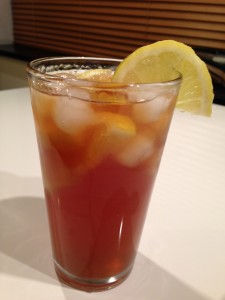 Here's what you do:
BRING 2 cups of water to a boil in a pot
REMOVE from heat
ADD three round tea bags
BREW for 15 minutes (dunk and squeeze every 5 minutes)
STIR in 3/4 cup of honey
STIR in an extra 2 tablespoons of honey (because I said so)
STIR in 6 cups of water
SERVE in an ice filled glass with a squeeze of lemon
Serves about 8.
I know what you're thinking. That is a lot of honey. And it is. But it's worth it. If you follow my recipe, you will taste a kiss of syrup and lemon with each sip.
This drink is not for dieters, but don't worry. Just pretend you're on vacation in a little ol' southern town. I have a theory that anything Yankees eat or drink south of the Mason-Dixon line doesn't have calories.
And anyway, a lil' bit of sweet tea ain't never hurt anybody.
Enjoy yourself, shug.