Landshark Lager: Captain Dad Reviews Jimmy Buffett's Beer
Captain Dad, who is now officially a captain according to the U.S. Coast Guard, was this week given the hard task of reviewing Landshark, an island-style lager from the Margaritaville Brewing Company. It's unfortunately not available here in the U.K. but he was able to pick some up from his local liquor store in the U.S. Dad decided to try it out on the boat. Here's what he thought:
How do you punctuate the end of a good sailing day? Sails down, fins up, and sit back with a lime and a cold lager. Now, my favorite brew at this time of day is usually a cold Corona Extra, but the Land Shark story intrigued me. This lager was developed in partnership with Jimmy Buffett's Margaritaville and is brewed in Jacksonville, Florida and a member of the Anheuser-Busch family. The Margaritaville Brewery annually contributes thousands of dollars to the Ocean Conservancy whose members are dedicated to keep our coasts clean. So I'm not guzzling down cold beer, I'm saving our oceans!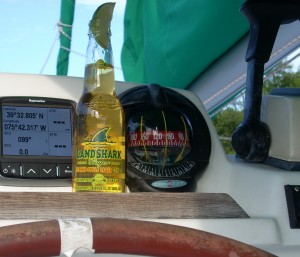 I must say I still prefer my Corona. Land Shark, at least to me, tastes like a slightly watered down Corona. Does that mean Land Shark has lower alcohol content? Not really. Land Shark has a 4.7 percent alcohol by volume (abv) andCorona has 4.6 percent abv. Corona Extra has 148 calories per 12 ounces and Land Shark has 150 calories per 12 ounces. So it's all in the brewing. Or it's all in my head. More research is required. And with those long hot summer days coming up, I plan to watch those sunsets over the ocean and continue my work.