Fireball: Just When You Thought You Couldn't Love Cinnamon More
Cinnamon Toast Crunch, cinnamon-sugar pretzels, cinnamon gum, even cinnamon toothpaste. Cinnamon is an extremely common flavour in the U.S. and Americans love it so much we even floss our teeth with it.
It's a relatively rare spice in the U.K. So you can imagine how my little star-spangled heart went boom-boom when someone brought this to our house last weekend: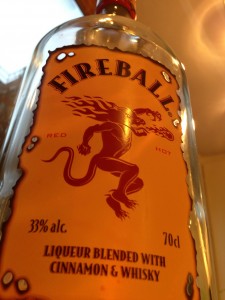 Fireball liqueur blended with cinnamon whisky. It's distributed in the U.K. by Hi-Spirits Ltd.
In the words of its distributor: "Fireball is made with whisky and infused with natural cinnamon, creating a fiery kick with a smooth finish."
Fireball originates from North American distiller Sazerac and this article seems to suggest it made its way onto British shores sometime in late 2010.
The rumour, Sazerac's website says, is Fireball started life as an accident in the mid-1980s. (Sounds like some friends I know.) A Canadian mixologist was trying to create a "liquid solution to frostbite" during the coldest winter Canada has ever seen. It continues:
"The concoction slowly and quietly made its way through North America for a few years until some bottles were reportedly smuggled down to the lower 48. Like its energetic name, the brand took off and is now sold around the world."
I can tell you from personal experience it's delicious on its own but I have a couple of cocktail recipes to share with you this weekend.
I'm trying to control my excitement.