Apple Martini: Did Someone Order a Sweet and Sour?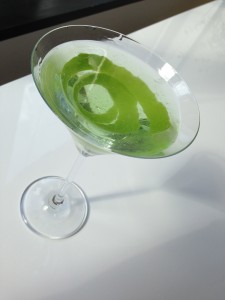 Apples don't taste like this, but a cocktail isn't supposed to completely recreate the sensation one gets when eating food.
This drink is equally sweet as it is bitter thanks to the Sourz spirited apple. It's not for the unexperienced drinker as the vodka in it is hard to miss.
The recipe is simple:
2 shots of vodka
1 shot of Sourz spirited apple
Shake it up with ice. Garnish with a twirl of apple skin.
If you're looking to dilute this a bit, I'd say a few splashes of clear lemonade would go well. However, you will fade the green colour. So I'd add a couple of drops of green food colouring to freshen it up.
One final thing to note is the vodka. Try to use a decent quality brand. There's not much in this cocktail to disguise a bad choice of firewater.
Enjoy!