Painkiller: My Prescription for a Bad Back
My dad has a saying about pain: "You can take an aspirin or you can have a strong drink. I tend to go for the one that's more pleasurable."
I'm following Dr. Dad's guidance today. My back is killing me, and when I saw there is a cocktail called a Painkiller, I thought it was worth a shot.
The Internet gave me some idea on how to make it. Here's the prescription I filled:
2 shots of Captain Morgan Original Spiced Rum
1 shot of coconut milk
4 shots of pineapple juice
1 shot of fresh squeezed orange juice
I shook all the ingredients with ice and poured into an ice-filled glass. I then sprinkled some ground nutmeg on top.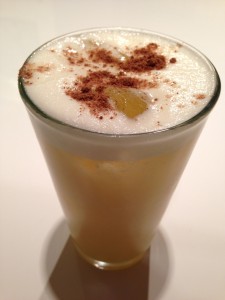 Here one thing worth noting: recipes call for using coconut cream instead of milk. Only I could not source the cream. I had the same trouble with the Blue Bonanza cocktail the other week. I learnt from that experience that desiccated coconut is not a good substitute.
Coconut cream has less water than the milk version. Using one for the other might not have made too much of a difference except as time passed, and ice melted in my drink, I kind of wish I had something thicker in my glass to bind the whole thing together.
Nevertheless, it was a pretty darn good drink and I forgot about my back pretty quickly.
The first thing you'll notice about it is the smell of nutmeg. It makes you feel you're about to sip into something earthy. Then, you're pleasantly surprised by the taste of milky pineapple.
This is a sneaky cocktail. You don't know there is rum in the drink until you smell your breath afterwards. Yet, the nutmeg is so rich it keeps you from gulping down this concoction.
So enjoy and drink responsibly or else you'll feel another kind of pain the next morning.